Gabriel Van Gompel, DPM
Board Certified in Foot and Ankle Surgery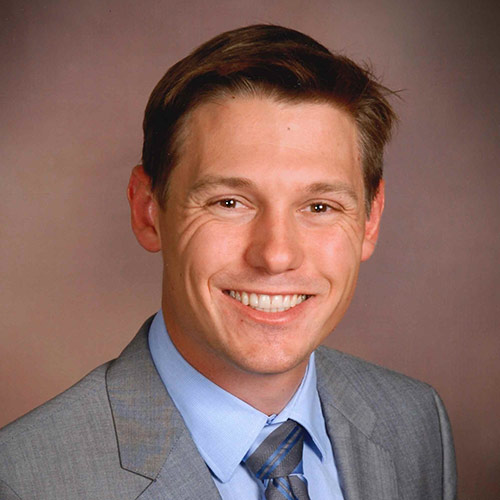 Gabriel Van Gompel, DPM
Request An
Appointment
Dr. Gabriel Van Gompel specializes in foot and ankle surgery. He has extensive experience in all areas of foot and ankle medicine, with an emphasis in reconstructive and arthroscopic surgery. He has received specific training in arthroscopic and endoscopic procedures involving the foot and ankle with an emphasis on sports medicine. He also is trained in treating biomechanics disorders involving the lower extremity. He offers treatments using custom foot orthotics and bracing when necessary. This method of treatment can be effective at helping patients return to their sport or normal daily activities while avoiding a surgical procedure.
Dr. Van Gompel completed his bachelor's degree at the University of Wisconsin--Stevens Point and obtained his medical degree at the California School of Podiatric Medicine. He received his surgical training at the Kaiser Permanente South Bay Consortium Foot and Ankle Surgery residency program. Here, he performed numerous procedures involving musculoskeletal reconstruction, diabetic limb salvage, Charcot reconstruction, trauma, neuromuscular disorders, and rheumatoid arthritis.
Having trained in the San Francisco Bay Area, Dr. Van Gompel is well accustomed to the diverse pathology and patient population. His goal in treatment is to help patients return to their normal activities as quickly and safely as possible. He involves his patients in the treatment process to create the optimal situation for healing.
Dr. Van Gompel is also passionate about volunteering surgical services to those in need. He participated in a surgical mission to Da Nang, Vietnam, where he performed reconstruction surgery on patients with extensive foot and ankle deformity and disability. He plans to continue offering his services to volunteer missions in the future.
In his free time, Dr. Van Gompel enjoys spending time with family, sailing, hiking, snowboarding, and attending the San Jose Sharks hockey games. He is a lifelong Green Bay Packers fan.
Dr. Van Gompel specializes in the treatment of a variety of foot and ankle procedures, including:
Reconstructive Surgery
Sports Injuries
Foot and Ankle Surgery, Arthroscopy
Ankle Sprains and Achilles Ruptures
Bunions and Heel Pain Treatment
Ankle and Foot Fractures
Education
Undergraduate: University of Wisconsin, Stevens Point, Bachelor of Science, Biological Sciences, Stevens Point, WI
Medical: California School of Podiatric Medicine, San Francisco/Oakland, CA
Training
Foot and Ankle Surgery Residency Program: Kaiser Permanente South Bay Consortium, Santa Clara, CA
Visiting Fellowship Academic Medical Center: Amsterdam, Netherlands, June 2014
Professional Affiliations
American College of Foot and Ankle Surgeons
American Podiatric Medical Association
California Podiatric Medical Association
Hospital Affiliations
Abstracts and Presentations
2012 – 2013
Kaiser Foundation Hospitals
Abstracts
Gabriel M. Van Gompel, DPM, Glenn M. Weinraub. Arthroscopically Assisted Repair of Delayed Syndesmotic Injuries. American College of Foot and Ankle Surgeons Annual Scientific Conference Poster Presentation. Orlando, Florida
Gabriel M. Van Gompel, DPM, Glenn M. Weinraub. Medial Malleolar Fractures: ORIF vs. Percutaneous Fixations. A Retrospective Comparative Study. American College of Foot and Ankle Surgeons Annual Scientific Conference Poster Presentation. Las Vegas, Nevada
Publication of a Scientific Literature Review Article in the Journal of Foot and Ankle Surgery in October, 2012 on the Comparison of Early Versus Delayed Weight bearing Outcomes After Micro Fracture for Small to Midsized Osteochondral Lesions of the Talus by Lee DH, Lee KB, Jung ST, Seon JK, Kim MS, Sung IH. Am J Sports Med. Aug 9, 2012. 40(10):NP28 2010-2012
Current Research
Medial Malleolar Ankle Fractures and the Rates of Healing with ORIF and Percutaneous Fixation a Retrospective Comparative Study – Gabriel Van Gompel, DPM, Glenn M. Weinraub, DPM, FACFAS
Publications
2012 – 2013
Kaiser Foundation Hospitals
Benjamin D. Cullen, DPM, Glenn M. Weinraub, DPM, FACFAS, Gabriel M. Van Gompel, DPM. Early Results with Use of the Midfoot Fusion Bolt in Charcot Arthropathy. The Journal of Foot and Ankle Surgery 52 (2013) 235-238