Ricardo A. Molina, MD
Board Certified Orthopaedic Surgeon
Joint Replacement Specialist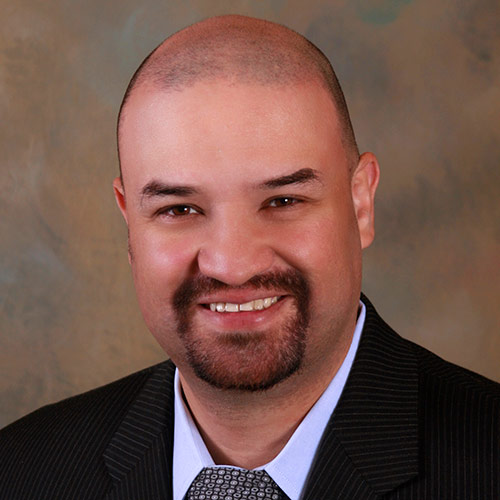 Ricardo A. Molina, MD
Request An
Appointment
Dr. Ricardo Molina specializes in joint replacement surgery of the knee and hip, including anterior hip replacement, minimally invasive and unicompartmental (partial knee) replacements. He also has expertise in orthopaedic fracture care and sports medicine. Dr. Molina speaks fluent Spanish and has traveled to Central America to provide orthopaedic care for children in the developing world.
Dr. Molina's mission is to get patients back to their activities as quickly and safely as possible. He collaborates with his patients throughout the treatment process, discussing all surgical and non-surgical options to devise the best individualized treatment plan. He greatly values the opportunity to provide state of the art orthopaedic care to all of his patients and their families.
Dr. Molina grew up in the San Fernando Valley near Los Angeles. He attended the University of California Los Angeles (UCLA) for his undergraduate studies and graduated with a double major in physiology and biochemistry. He also obtained his medical degree from UCLA, where he discovered his passion for orthopaedics. He then completed his orthopaedic surgery residency in at the San Francisco Orthopaedic Residency Program (SFORP). Part of his residency involved training at St. Mary's Medical Center in San Francisco, a hospital at the forefront of early total joint reconstruction centers in the United States. Here, he developed state of the art techniques in total joint arthroplasty. Since starting his practice, he has performed over 1,500 joint replacement surgeries.
Outside of work, Dr. Molina enjoys spending time with his wife Dayana and his son Pablo. He and his family like to travel and explore Northern California. They also enjoy outdoor activities like cycling and hiking. He remains an avid sports fan, with strong connections to Los Angeles and Bay Area Sports.
Dr. Molina specializes in the treatment of a variety of orthopaedic conditions and performs several orthopaedic procedures, including:
Joint Replacement surgery of the knee and hip
Unicompartmental (partial knee) replacement
Orthopaedic Fracture
Sports Medicine
Education
Undergraduate: University of California, Los Angeles, Bachelor Of Science, Physiology and Biochemistry, Los Angeles, CA
Graduate Degree: University of California, Los Angeles, Master of Science, Physiology, Los Angeles, CA
Medical: David Geffen School of Medicine at UCLA, Los Angeles, CA
Training
Orthopaedic Surgery Residency: San Francisco Orthopaedic Residency Program, San Francisco, CA
Professional Affiliations
American Academy of Orthopaedic Surgeons
Western Orthopaedic Association
Hospital Affiliations
Abstracts and Presentations
Arthroscopic proximal rowcarpectomy (APRC).
Clinical cohort study of 17 patients with 12-month follow up after APRC. Outcome measures ROM, grip strength, DASH, pain questionnaire and patient satisfaction.
Poster presentation: July 27-30th 2011 Annual Meeting Western Orthopaedic Association. Honolulu, HI
Lateral ulnar collateral ligment reconstruction:
Cadaveric Study. Cadaveric study comparing two different reconstruction techniques; interference screw vs traditional docking technique.
Podium presentation: February 10th 2012 AAOS Annual Meeting. San Francisco, CA
Poster presentation: July 27 - 30th 2011 Annual Meeting Western Orthopaedic Association. Honolulu, HI
Publications
Molina RA, Kwiat D, Leisure J,Buckley J and Lattanza L. Lateral Ulnar Collateral Ligament Reconstruction techniques: Biomechanical comparison of two techniques. Submitted for publication Oct 2011.
Weiss N, Molina RA, Gwinn S. Arthroscopic Proximal Row Carpectomy. J Hand Surg Am.2011 Apr;36 (4):577-82.
Quirós-Tejeira RE, Molina RA, Katzir L, Lie A, Vargas JH, Ament ME, McDiarmid SV, Martín MG. Resolution of hypophosphatemia is Associated with Recovery of Hepatic Function in Children with Fulminant Hepatic Failure. Transpl Int. 2005 Sep;18 (9):1061-6.
Molina RA, Katzir L, Rhee C, Ingram-Drake L, Moore T, Krogstad P, Martín MG. Early Evidence of Bone Marrow Dysfunction in Children with Indeterminate Fulminant Hepatic Failure who Ultimately Develop Aplastic Anemia. Am J Transplant. 2004 Oct;4 (10):1656-61.